September, 2015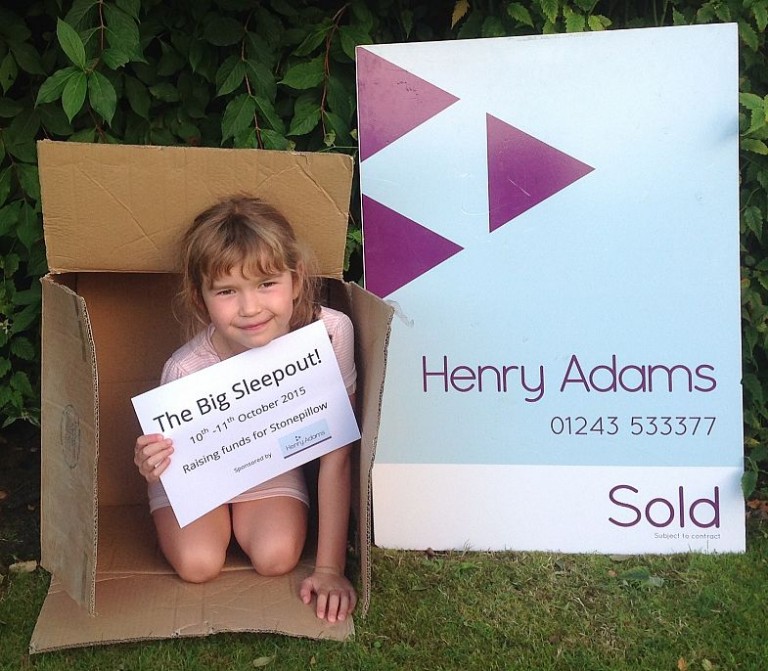 Henry Adams has nominated Stonepillow as their chosen charity for 2015/2016 which includes the sponsorship of their key fundraising event, The Big Sleepout, taking place at Chichester Cathedral on Saturday 10th - Sunday 11th October 2015.
Martin Curry, partner at Henry Adams, who has previously taken part in the Big Sleepout himself says, "I'd encourage anyone to share the experience of sleeping out to raise awareness and funds.
This year, sponsoring the Big Sleepout will enable my colleagues across all our residential offices and our professional services teams to join in by building their own shelters before sleeping out under the stars."
Please sponsor our Henry Adams team comprising Martin Curry, Simon Smith, James Pugh, Martin Trundle, Dawn Appleton, Ian & Kate Wiggett, Hattie Coates, Nick van Klaveren, Gail Chisham, James Adkins, Kay Phillips, Emma Clue, Ayesha Miles, Hannah Frost, Olly Shaw, Adrian Passingham, Kat Wilmot, Tamsin Macleod & Simon Lush
https://www.justgiving.com/teams/stonepillow-big-sleepout-2015
The plans so far for Saturday 10th October, but subject to change, are;
9:30 Team Henry Adams will arrive and begin making their shelter as the focal point for the event. They have been busy collecting cardboard, duct tape, cable ties and agreeing on architectural plans; so wait and see what a group of Estate Agents, Planners, Developers and Architects can come up with!
13:30 All participants are invited to start making their shelters before bravely spending the night in the Cathedral grounds!
16:30 The shelters will be under the scrutiny of our judging panel, given the task of deciding which shelters are most fit for purpose and, to use our popular slogan, 'Simply Different!'
18:00 A Fish and Chip van will arrive to feed all those sleeping out and kindly dedicating their time and energy to raising much needed funds for Stonepillow.
19:15 A Prize Giving Service will be held inside Chichester Cathedral
It's not too late to confirm your place on the BIG SLEEPOUT by registering at http://stonepillow.org.uk/the-big-sleep-out-2015/ The registration fee is £10 per person or £40 for a team of 5.
Create a sponsorship page using Just Giving and start thinking about getting lots of pledges to help ensure that others, less fortunate than you, don't have to sleep out at all.
We look forward to seeing you there, it promises to be a great occasion, raising much needed funds for our chosen charity, Stonepillow.