December, 2019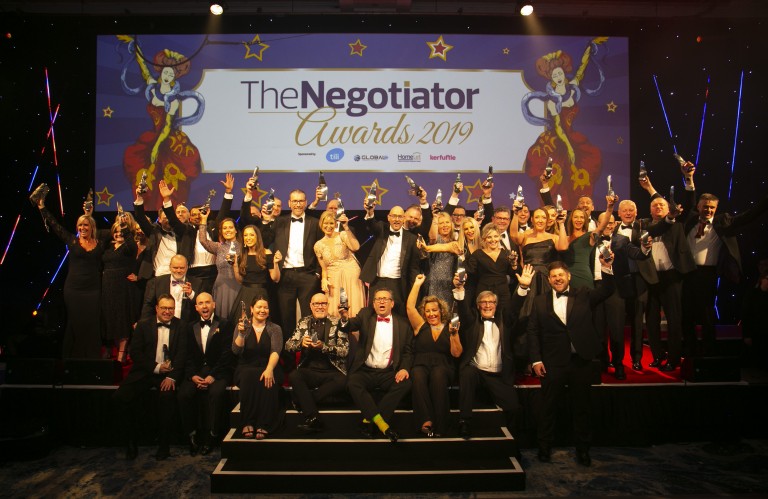 Auction House wins gold at property 'Oscars'
Auction House, operating as Symonds & Sampson in the West Countryhas won the gold award as Residential Auction Service of the Year in the 2019 Negotiator Awards – widely recognized as the most important awards programme for the UK property industry.
The winners from every corner of the UK were announced at a gala dinner hosted by comedian, TV presenter and actor Tom Allen, in a sparkling ceremony at London's five-star Grosvenor House Hotel on Park Lane.
Receiving the award, auctioneer Bryan Baxter said: "As far as the property industry is concerned, this is the equivalent of winning the 'Oscars'! It's an incredibly prestigious award and is yet another milestone achievement for the group."
The entry list for the 2019 Negotiator Awards was the biggest in the history of the event, which continues to grow in stature and importance with each year. Auction House's latest trophy repeats gold and silver successes at the ceremony in almost every year since 2013.
Bryan Baxter added: "Nationally, the sector as a whole has had a tough year. But our 40 Auction House salesrooms seem not only to have ridden the storm, but in many areas have been bucking the trend. We put that down to our unique combination of local knowledge, regional expertise and national coverage, which has once again proved so successful.
Despite uncertainty caused by Brexit and the imminent General Election, Symonds & Sampson results are on a par with last year but the October resultshttps://www.symondsandsampson.co.uk/auctions/resultswere outstanding with 40 lots going under the hammer with a 95% success rate.
Commenting on the figures, Mark Lewis of Symonds & Sampson said: "Whilst some people appear to be putting their property decisions on hold until the New Year, others see auction as the speedy solution. With that in mind, we have over 600 lots https://www.auctionhouse.co.uk/auction/future-auction-datesentered into our December auctions nationally, and our rooms are busy with bidders eager to purchase before next year.
"So, it's our expectation that need-driven sellers and optimistic buyers will ensure a high-level of sales in our pre-Christmas rush."
Contact Mark Lewis on 01258 474266 or call into your local Symonds & Sampson office to discuss the suitability of this proven method of sale for your property.