November, 2020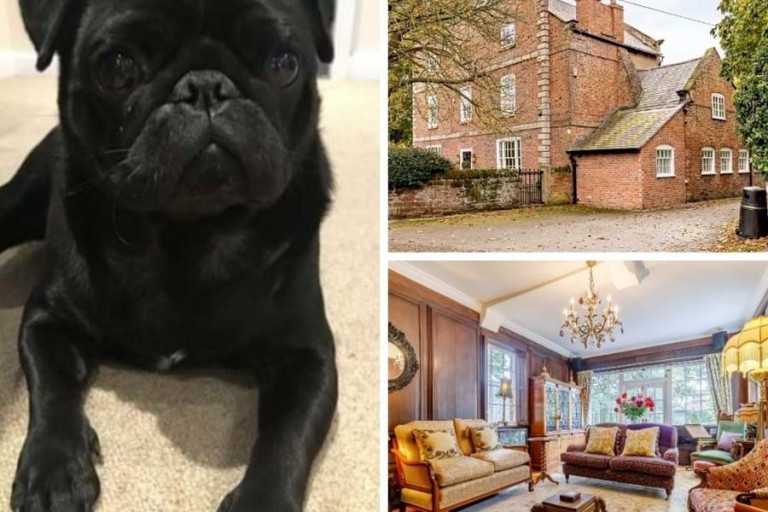 Ralph reviews a Grade II* period house in Farndon.
Autumn has well and truly set in and I have to say that I am embracing it with all four paws. I love this time of the year – what could be better than a long walk through the Cheshire countryside, bounding through avalanches of golden leaves, joyously chasing down fallen horse-chestnuts and seeking out the conkers inside, before settling down in front of a roaring log fire for an afternoon snooze!
After indulging in just such a walk earlier this week, I set off with my habitual enthusiasm to explore this week's property for my Ralph's Review. And oh, what a treasure trove I found at The Old Doctors' in Farndon. Set in the heart of the village, this magnificent 3 storey 17th century home literally stopped me in my tracks. As I gazed up at the elegant façade I felt like I was about to step into the pages of Jane Austen's Pride and Prejudice as this was just how I imagined the Bennets' home to be.
Already thoroughly charmed, I made my way across the gravel driveway to a pristinely painted front door. Taking in my surroundings I noted the beautiful block timber floor, the carved wooden staircase and the intricate coving, all of which sent a shiver of excitement down my spine – The Old Doctors' looked set to be a very special home indeed.
My first stop found me in a room to my right and, with a squeal of delight, I realised it was a music room, no less! I closed my eyes and could almost hear the soft tinkle of the piano keys as Elizabeth Bennet serenaded me, her devoted pug, curled up at her feet. With a wry but rather wistful sigh, I took myself back into the hallway and across to the room opposite. Here I found a convivial and thoroughly inviting sitting room. Pride of place sat a log burning stove which, I was delighted to see, was lit. I settled down in front of it and took a moment to soak in my surroundings – beautiful period features left one in no doubt of the provenance of the house and yet it was also informal and welcoming, the perfect place to settle in for those long autumn nights.
Whilst I could quite happily curl up for 40 (or 100) winks in front of the glowing embers, I was aware that I still needed to explore the rest of this magnificent house. And boy was I glad that I did as my next stop found me in a drawing room that could not have been more perfectly "Pride and Prejudice" if it tried! Resplendent with wood panelling on the walls complemented by period windows and glazed doors, it was warmed by another log burning stove and was most definitely a room designed for entertaining. It was easy to imagine the low hum of conversation and the clink of crystal upon crystal as the Bennets of my imagination entertained their guests.
Firmly pushing my daydreams aside, I turned about tail and trotted back across the hallway, this time finding myself in an elegant dining room. I noticed that this opens on one side into the music room and on the other into a light and appealing garden room. Having been rather bowled over by The Old Doctor's House so far, I had great expectations for the kitchen which is so often the heart of a home. And, yet again, I was not to be disappointed. The kitchen in this beautiful house artfully combines the needs of a modern family with period features and quirky individuality – I loved it! Picture the scene – period style tiled floor, country-style kitchen units, a range cooker, an imposing inglenook fireplace with a log burner and a stunning wrought iron spiral staircase leading up to the first floor. I honestly think that if I could have stayed tucked up in a dog basket right next to that log burner for the rest of my days I would have been a very happy pug!
The spiral staircase was so enticing that I could not resist any longer, I started to climb. Having tentatively made my way up I found myself in a light and spacious study. What a splendid place to work I thought to myself – very convenient to nip downstairs for a bonio and a cup of water! Although, I mused, it may be worth my while creating some sort of slide to whiz down (that would be fun!) and a pulley system to winch me back up again!
The rest of the upper storey rooms are accessed by the main staircase from the hallway so I, very carefully, made my way back down the spiral staircase and through the house to the hall where I then bounded up to the first floor. On this floor I found three bedrooms, one with a lovely en suite bathroom as well as a family shower room. All the rooms are full of attractive features including period style windows whilst two of the bedrooms also boast feature fireplaces. Unbelievably The Old Doctors' has even more to offer in the form of a second storey where I found another three bedrooms, one with an en suite shower room and a separate bathroom.
It was fair to say that I was more reluctant than normal to leave this stunning property but before I cast my last wistful glance at its beautiful façade, I took a stately walk around the garden which is situated at the back of the house. I found a large lawned area with a delightful array of trees and bushes – perfect to tempt the scent buds of the most inquisitive of canines whilst I also spied an open plan summer house and a brick double garage which I ascertained also has a room above it.
All in all, I feel that The Old Doctors' would be hard to beat on so many levels. Both welcoming and yet exquisitely elegant, it is a family home which also lends itself perfectly to entertaining. If The Old Doctors' has charmed you as much as it did me then do please get in touch to arrange a viewing on 01244 322322 or tim@rickittpartnership.co.uk.
Until next time
Ralph X