December, 2016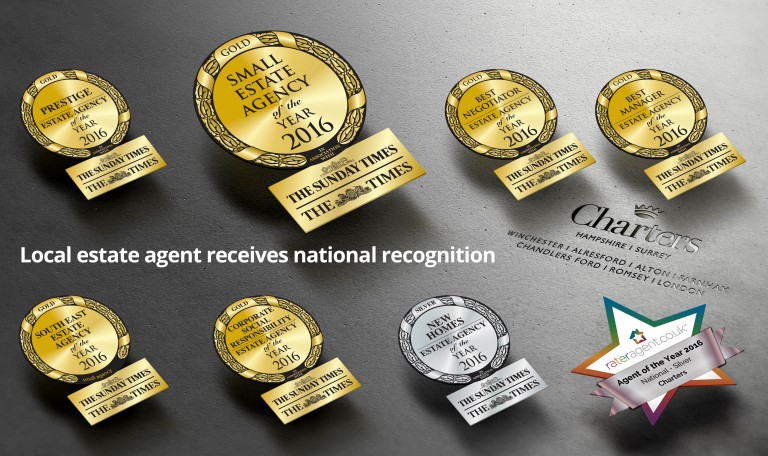 Charters estate agents of Hampshire & Surrey, who are a regional and localised independent estate agency with a tight network of just four local offices at Winchester, Alresford, Alton and Farnham, recently received six GOLD and one SILVER award at the Estate Agency of the Year Awards 2016, in association with The Times and The Sunday Times.
Charters were named as the overall Best UK Small Estate Agency 2016 with GOLD
The panel felt that Charters estate agents is a genuine success story stating "it's grown rapidly over the past seven years and built a great reputation for providing brilliant service that gets results". This is impressive industry acknowledgement on a National scale, recognising the significant services provided by everyone at Charters.
Other significant industry awards and recognition followed with:
GOLD - Best UK Prestige Estate Agency 2016
The panel of judges commented that Charters' prestige offering has evolved naturally and is now an intrinsic part of the business. Charters enjoys an excellent reputation and provides an attentive and intuitive service.
GOLD - Cecil Jackson-Cole Award - for Corporate Social Responsibility 2016
The judges felt that Charters has positioned itself as a responsible organisation and community champion, which gives back to the community that supports it. The amount of money raised over the past 12 months is impressive and comprises a good mix of sponsorship and straightforward donations.
GOLD - Best Small South East Estate Agency 2016
In addition to overall Best UK, Charters also won the localised and regional category for the South East and the panel felt Charters fully deserved the GOLD commenting "The team comes from a range of backgrounds and bring this experience to the fore when dealing with the intricacies and complications of moving. It was evident from the testimonials that clients really value this level of expertise. The excellent mystery shopping results backed up the judge's findings".
SILVER - Best UK New Homes Estate Agency 2016
The judging panel recognised that Charters has worked hard to produce a holistic service for developers stating "They have worked extremely hard to become a market leader in the new homes arena, and the number of units in the pipeline is evidence that their approach has worked. Developers like working with Charters as they provide an agile and adaptable service".
GOLD - Best UK Individual Manager Estate Agency 2016 | Elliott Trodd at Charters Winchester
Elliott was singled out as a "very impressive individual who is process-driven but who also spends a lot of time on people management and building relationships".
GOLD - Best UK Individual Negotiator Estate Agency 2016 | Nony Kerr-Smiley at Charters Winchester
Nony won overall because the judges felt "she has a great work ethic and works long hours to ensure she is always available for her clients. Nony is a tour de force whose passion and behaviours are inspiring".
Simultaneously, Charters have also just been awarded SILVER for the company's combined 'customer service' under raterAgent's 'Agent of the Year 2016' national awards. These awards recognise the UK's top estate agents, based on genuine customer reviews. Charters have been ranked in an impressive 2nd Nationally out of a total of 10,851 companies who partake. In addition, Nony Kerr-Smiley again won personal recognition with National SILVER for 'Individual Agent of the Year 2016'. Subsequent runner up categories included the next TOP 10 agents with our own Leanne Conyers claiming GOLD in Winchester and Michael Marsh claiming BRONZE in his TOP 50 category for Alton. Commenting on these results, raterAgent Chairman (and ex Property Ombudsmen) Bill McClintock said, "These are the industry awards that matter as they are based entirely on genuine reviews from customers who have experienced the agent's service first-hand. Individual winners have every reason to feel proud that the exemplary service they give their customers has been recognised."

Robert Mott, Managing Director for Charters, said "I am overwhelmed and incredibly proud of all the recent awards and industry recognition for our both our company and individual staff members. We all work extremely hard to maintain our market leading reputation locally, so to have this recognised on a National scale is a further endorsement of our pursuit for excellence"