October, 2018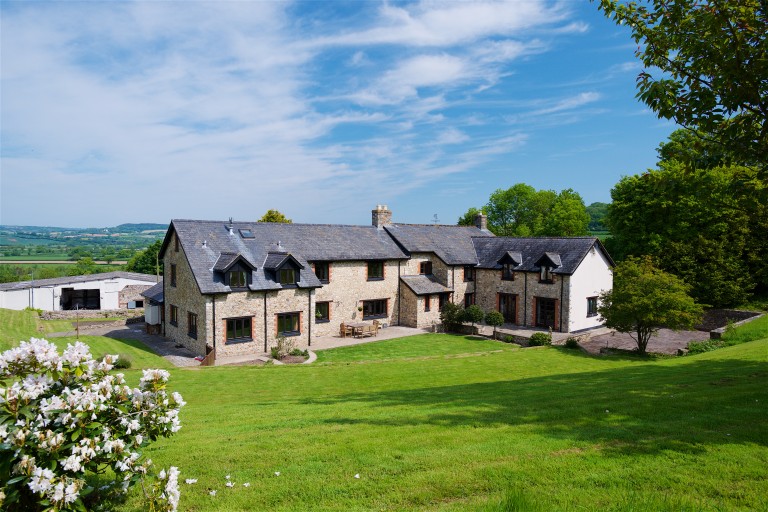 A Tale of Two Properties - A Race Against Time
The scorching summer of 2018 has been a notable success for the Farm and Equine Team at Axminster with the linked sales of two excellent East Devon equine properties.
Crabhayne Farm is a compact country estate and the home of Crabhayne Racing Stables surrounded by 90 acres of pasture, with lakes and native woodland adding to the appeal. The gloriously situated 9 bedroom Grade II listed farmhouse and 3 bedroom detached cottage are set at the end of a private tree lined driveway with fine views over the Axe and Coly Valleys. The excellent equine facilities include over 40 stables, 5.5 furlong gallop, 2.5 furlong cantering track, horse walker and lunging ring. The farm was offered for sale by private treaty with a guide price of £1,950,000.
Although not on the market, the owners of Edge Farm Stables, Branscombe viewed and fell in love Crabhayne Farm as the perfect home for their family and horses. Rising to the challenge, Symonds & Sampson brought Edge Farm Stables to the market at very short notice. To ensure a secure sale with funds available for the onward purchase within a strict timetable, Symonds & Sampson's experienced farm agents proposed the method of sale by formal tender, which was accepted by both parties, resulting in two successful sales.
Edge Farm Stables offers a rare opportunity to acquire a building plot with planning permission for a 3 bedroom bungalow (Equine/Agricultural Occupancy Condition) near the popular coastal village of Branscombe. The well-regarded East Devon Riding Academy was located at the property, which includes an existing stableyard and all weather arena set in 27 acres of level pasture. The proposed dwelling's large open plan living area features glorious views over the paddocks to the sea beyond. There is also planning permission for a glamping site comprising of 3 luxury safari tents, ideal for a staycation. Sold by formal tender in excess of the guide price £575,000.
When you want to secure your dream property and are not even on the market – sound advice and timing are everything.
For further information if you are considering a sale of your property and advice on methods of sale, contact Ross Willmington or Angela Gillibrand at Symonds & Sampson on 01297 33122.