February, 2018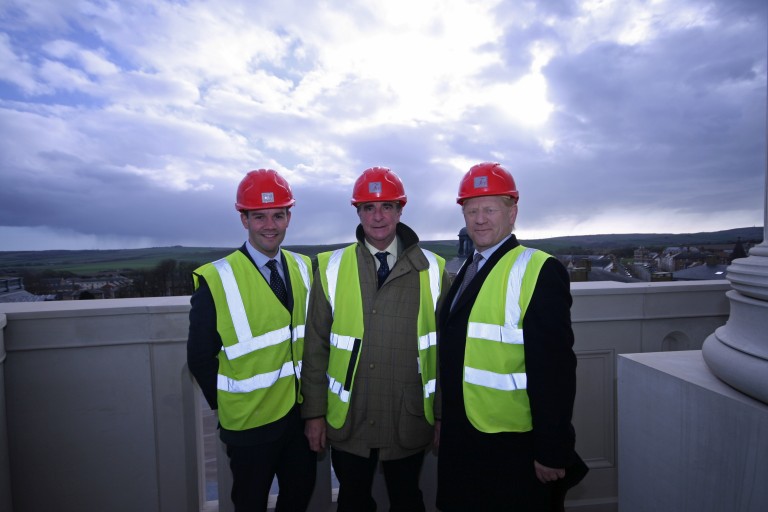 On the 15th February Bob Bickersteth from The London Office spent the day with Symonds & Sampson in Poundbury meeting existing clients, prospective clients and viewing their homes to give first hand feedback to the London buyers who are looking to escape the rat race.
'Poundbury is an increasingly popular location for city buyers looking for a country home. It is surrounded by countryside and close to the sea, whilst the town itself is still reminisce of the city with its stunning architecture, layout and gorgeous 'boutique-y' shops and eateries all within an easy walk. Although some buyers are looking for that chocolate box thatched cottage or farmhouse in need of work many want stunning low maintenance homes which require no work while still offering that escape to the country feel; this is what Poundbury offers' comments Bob.
During his visit Bob, joined by Richard Taylor and Peter Grout-Smith of Symonds & Sampson were invited up to the penthouse of the prestigious Royal Pavilion, Poundbury's most exclusive address.
'Although it is still under construction, The Royal Pavilion is 'the' address in the area' adds Peter Grout-Smith who specialises in Poundbury property. 'Already a number of these stunning apartments have been reserved and it is easy to see why. We feel privileged to be involved in the sale.'
'The Pavilion penthouse is like something you would expect to see in Knightsbridge with its colonnade terrace, elaborate ironwork, high ceilings and its enviable size. The finish inside all the apartments are stunning. They truly are luxury living' adds Bob.
Peter and Head of Residential Jon Summers, both of Symonds & Sampson will be returning the favour and will be in the London office in March, to meet interested buyers. For more information on the Royal Pavilion please contact Peter Grout-Smith of Symonds & Sampson on 01305 251154.